Friends

My friend Laura is an amazing artist, mom, chef, home decorator, and overall cool chick. She blogs about her life, art projects, and decorating! Check out her art and her blog.
Chris is one of my oldest friends and also a talented photographer. He is based out of Kalamazoo, MI. Check out his blog and his wonderful portraits.
www.babbleweb.ca

Custom buttons, stickers, & Magnets! Unique and original designs. Check out their website or visit their myspace @ http://www.myspace.com/babble3
Bargertronic designed this website based on open-source code (www.oswd.org) and original graphical concepts. All content is original. Bargertronic specializes in unique & fun photography and designs for like-minded individuals, bands, and small businesses. For more details and information on how you can get free web & graphic design please visit Bargertronic's website!
favorites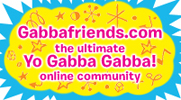 Yo Gabba Gabba is AWESOME! We love this show (it's on Noggin around 11am). It is the most creative and artistic kids show ever, and some of my favorite bands and actors have been on it. If you have not yet experienced it, you have to check out this fansite for more info on YGG. Look for my son Charlie's birthday party article on there!

Along with art I also LOVE vintage everything. I buy and sell awesome vintage clothes that I find all over my lovely mid-western habitat! Check out my etsy shop!