Requesting a portrait
First you'll need to let me know exactly what style and size portrait you'd like. Please see the Media & Pricing page for more information on available portrait styles & sizes.
Photos for the drawing can be mailed or emailed to me if you're not in town. Photo selection is a key part in creating a good portrait. Pick a clear, in focus, photo with a good amount of face showing.
I can do framing, of course for additional costs. If you need it shipped we can discuss further prices. I require at least a $20 deposit on all orders, for insurance that buyer will want the piece when it is finished. I accept PayPal and money orders. Piece will be shipped when payment is received.

All portraits are my own original stuff...and my prices are dirt cheap! Trust me I've done research, and I'm the cheapest artist around.
My Portraits are a one of a kind gift that your special someone would cherish.
I draw children, couples, individuals, celebrities, or groups, but I must admit, my favorite are old family photos. I suggest finding a photo that is candid, as opposed to a posed shot, looking straight ahead and smiling right in the camera. I will draw anything, but I think the more candid, natural photos make better portraits.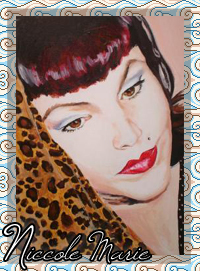 Contacting me

Please Email or Message me if you're interested in getting a portrait done or see one here that you can't live without! If you would like to speak with me on the telephone, please contact me via Internet first.
Email: cocomarie80@gmail.com
Myspace: http://www.myspace.com/niccolemariearts