About Me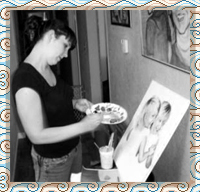 My main goal is to create affordable, beautiful, personal artwork. I believe you DON'T have to be rich to afford a piece of original artwork!

I am a mom of 2 wild little boys who keep me on my toes when they get home from school. I have been married to my guitar playing husband for 8 years! I have been spending the past few years focusing on family, but i am really excited to get back into making portraits and original art. Along with being an artist, i am also a crafter, thrifter, experimental cook, amateur photographer, and rockin' music lover. I moonlight as a waitress at a local music venue/restaurant. I am very involved in my kids schools, including being the coordinator for the picture person program. I love teaching the kids about art and doing fun art projects with them.

I have been drawing since I was a child. Actually, the artistic touch runs in my family. My mother and grandmother are both artistically talented. For as far back as I can remember I have always wanted to draw people. I have been doing portraits for commission for about 8 years now! I love the challenge of capturing one of the hardest subjects, the human face. My oldest son has been drawing amazing sketches for years. He is only 9 but can capture movement and perspective! It is really amazing to see raw talent at an early age. It is inspiring for SURE!

In 2000 I was accepted into the Art Institute of Chicago, which was a cool accomplishment, after 2 years at community college. I did not attend the institute, as I couldn't come up with that kind of dough. Instead, chose a college closer to home (Bradley University). I attended 3 years of art school before baby number one came. I worked at the Peoria Art Guild for 3 years. It was a grea experience being around artists and creative people, although I saw some things that made me a bit sad. Around here art is not something everyone can afford to buy or take part in. It is something enjoyed by the upper class, and I really don't think that is how it should be. My experience being in and around the local art scene inspired the goal which I stated earlier.

About 10 years ago, I started my own business drawing and painting portraits from snapshots. I had previously been doing them as gifts for friends and family or by commission from people I knew. I have been branching out the past few years, and I have sent portraits all over the continent! From Canada, to California, to Florida, to Nevada, to Nebraska, my portraits have traveled across the US and beyond! They all start in the middle of this cornfield I call home and make their way to their new homes.
I am always up for swapping artwork for other handcrafted items, by fellow artisans or creative crafty people.

I love being a mom, and drawing children is so much fun for me.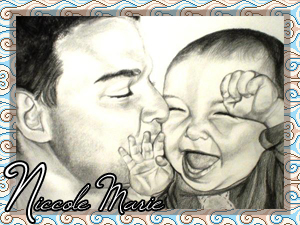 Contacting me

Please Email or Message me if you're interested in getting a portrait done or see one here that you can't live without! If you would like to speak with me on the telephone, please contact me via Internet first.
Email: cocomarie80@gmail.com
Myspace: http://www.myspace.com/niccolemariearts